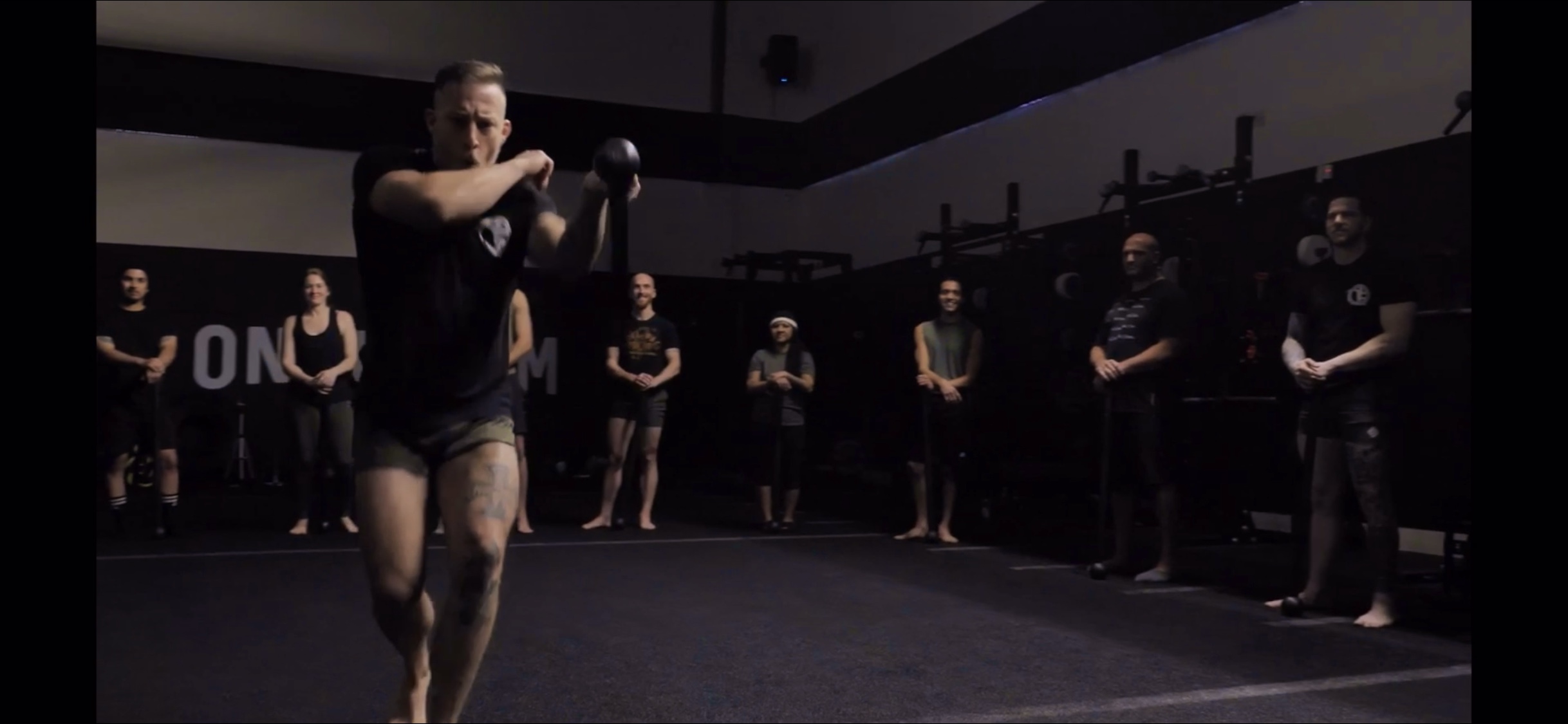 My name is Adam Nathan Fleury and I am a Steel Mace Flow Coach. My mace journey began in October of 2017 when I found several Onnit mace at my local gym. I started like many misinformed males with a steep history in fitness and grabbed the heaviest mace I found (a twenty-five pound mace). With this mace I learned my first lesson in mace training, collision. Of course this only fueled the fire burning within me after I wielded that mace. I had to know how to progress with this fascinating weapon turned health instrument!
With this new found knowledge that the mace exists I turned to the internet for visual resources. I found the Onnit Academy's workouts, and didn't hesitate to slam these mace on tires frequently. I incorporated basic two-hand mace movements into my functional workouts for several months before I began to bore with this as well. It was around the turn of the year in 2017/18 that I discovered Leo Savage on Youtube. My life and practice with the mace changed overnight. I saw this man Leo moving brilliantly and beautifully with his mace. The growth ceiling that I saw on my work with the mace evaporated instantaneously!
Shortly after I created an Instagram account for myself, and I did not hesitate to connect with Leo. I made it my mission to approach this man and learn everything I could learn about the mace. I started reverse-engineering his flows I witnessed on video. Obsessed with understanding the steel mace, I would practice these moves for hours a day. This was only one side of the equation however. Watching Leo express himself in movement was powerful, but seeing his vulnerability through his live videos opened the door for me. I was raised in a world where self expression and emotions were suppressed, and here was my mace idol expressing himself however he saw fit and encouraging others towards freedom.
Powered by my own intensity, with support from Leo and the love and compassion of the Steel Mace Flow community, I practiced endlessly over the course of 2018. Then there was an announcement that Leo Savage was hosting his first-ever online mentorship program for the entire month of November, 2018. I did not hesitate to jump onboard. That course changed my life! The mace and movement education alone was transformative, but it was the healing power of Steel Mace Flow that was on full display. My mace practice evolved rapidly after that certification course. I practice these techniques not only in movement but in mindset that Leo and Serena bestowed upon me every single day. I often say, "movement saved my life, but Steel Mace Flow saved my soul." Steel Mace Flow gave me structure in my mace practice, then the system gave me the freedom to find the edges of my own potential.
Now, I am still evolving my Steel Mace Flow game. Connected to the ever-growing tribe of Steel Mace Flow Coaches and artists, with an overwhelming amount of knowledge and inspiration at my fingertips, there really is no limit to the future of our practice! Inspire to create. Educate to heal. Put mace in hands!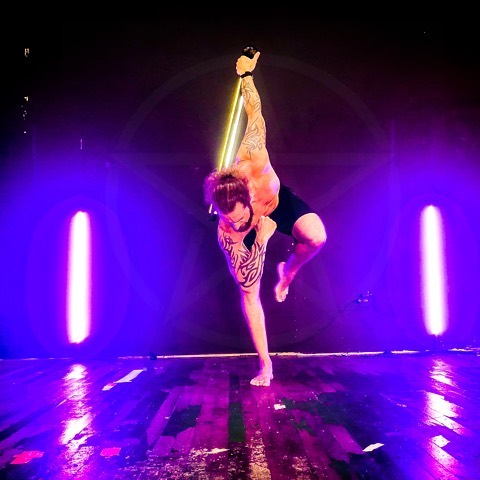 Grab some magic and unlock your flow. This is the journey you will embark on when the Alchemist puts a mace into your hands. Power weds grace within Jamie Pinto's process of steel mace flow- instruction that incorporates variations of mobility and strength training to provide you with the tools to move with intention. While reps, drills, and sweat are still a focus, Jamie teaches students to remove themselves from their metaphysical box, exploring boundless combinations of flow.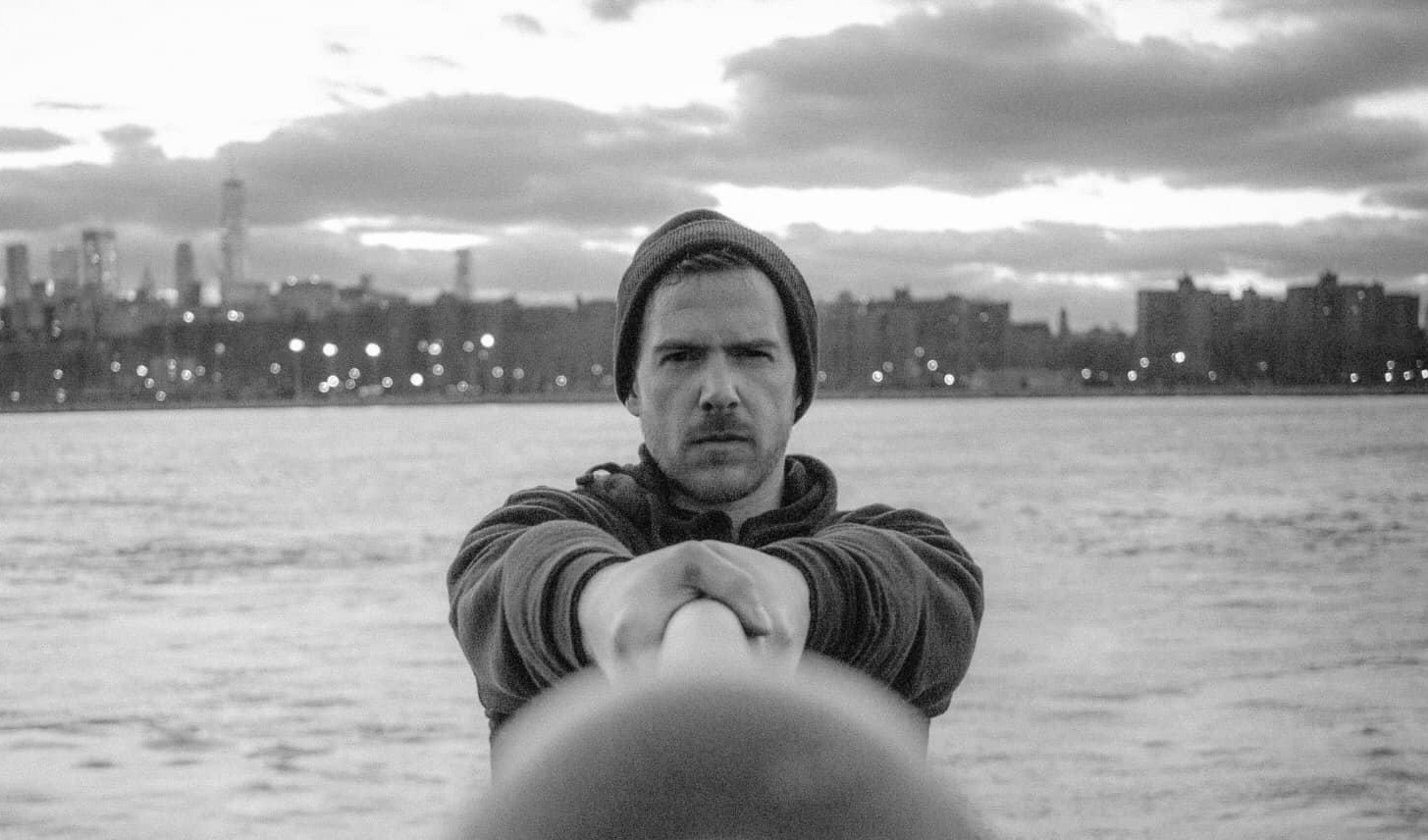 I first discovered the steel mace in September of 2017. Soon before that I was at a very low point in my life. I was recovering from shoulder surgery due to a car accident, dealing with the stress of a failing/failed marriage, overworking at the office to avoid confrontations at home, 50lbs overweight and just unsure of my next step in life.
I've had a relationship with health and fitness most of my life, but it has had its ups and downs due to multiple shoulder injuries/surgeries and chronic back problems. Searching for a distraction, a way to heal my body and an alternative way to workout, I stumbled across the steel mace. I started with a 10lb mace as the Onnit site suggested and I was immediately humbled. Starting off with 360s, switch squats and lunges, I gradually started to become obsessed, soon investing in the full collection of Onnit maces, following along with youtube videos and then eventually found Leo Urquides. I was inspired and my mace game hasn't been the same since. I eventually started posting videos of my own and then a friend, Dustin Horan, suggested I look into getting certified and possibly start teaching classes at his Yoga Studio, Jai Yoga School. I immediately started to consider it and after talking with some friends and loved ones, I began looking into starting my journey to become a Steel Mace coach.
I flew out to California to attend the Onnit Academy Foundations certification at Nerdstrong Gym. One month later I flew out to Seattle, WA for the Onnit Academy Steel Mace Specialist certification. Then, two weeks after, I went to NYC for Leo's Steel Mace Flow workshop and quickly learned that there are levels to this shit and that it is also about more than just fitness. Not only did my personal practice blast off after this workshop, so did my relationship with Leo, Serena and the rest of the Steel Mace Flow community. I started working my way into the mix, finding inspiration from others on a similar path, encouraging each other as we grew as mace artists, as we discovered new movement and achieved goals inside and outside of the steel mace.
A month before starting my first gig as a Steel Mace Flow coach, I went through the month long SMF Online Coaching Mentorship, earning my Steel Mace Flow Level One Certification with Honors. This program gave me the base to walk into my first class and coach with confidence, setting me on course to attend a live SMF cert at Solace NYC and display my coaching ability to Leo, Serena and other fellow coaches and mace artists. Wielding a wooden mace, working through injury, I moved and coached like a Steel Mace Flow Coach, because that is what I am and that is why I am on this journey.
Most recently in Miami, FL, I had the pleasure of assisting Leo, Serena & Zack at a 2 Day Steel Mace Flow Level 1 certification. Coaching fitness professionals and aspiring mace artists through the foundations, structures and techniques of SMF. It was an amazing experience seeing the determination of each and every person, pushing to their full potential, all earning their certification with honors. This same weekend, I earned my roll as an Official Steel Mace Flow Coach. Something that means more to me than some people may ever be able to understand.
Steel Mace Flow has brought so much love and purpose into my life. I look forward to sharing the continuous growth the system offers to so many more people around the world.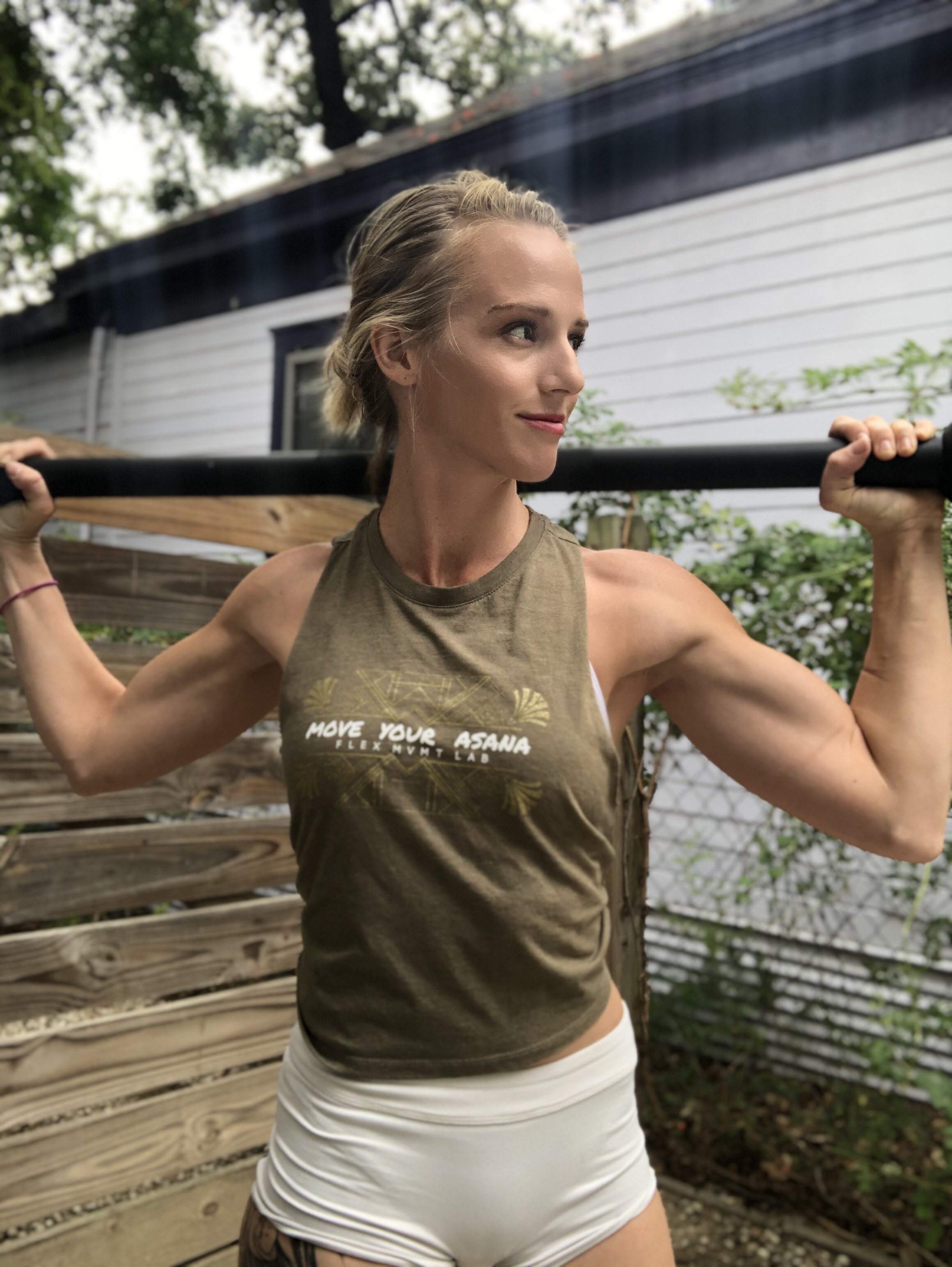 Serena Elizabeth is a passionate and driven business owner and coach. One of her many goals in life is to ensure and preserve the legacy of Steel Mace Flow. She currently resides in Austin Texas where she teaches and operates Steel Mace Flow.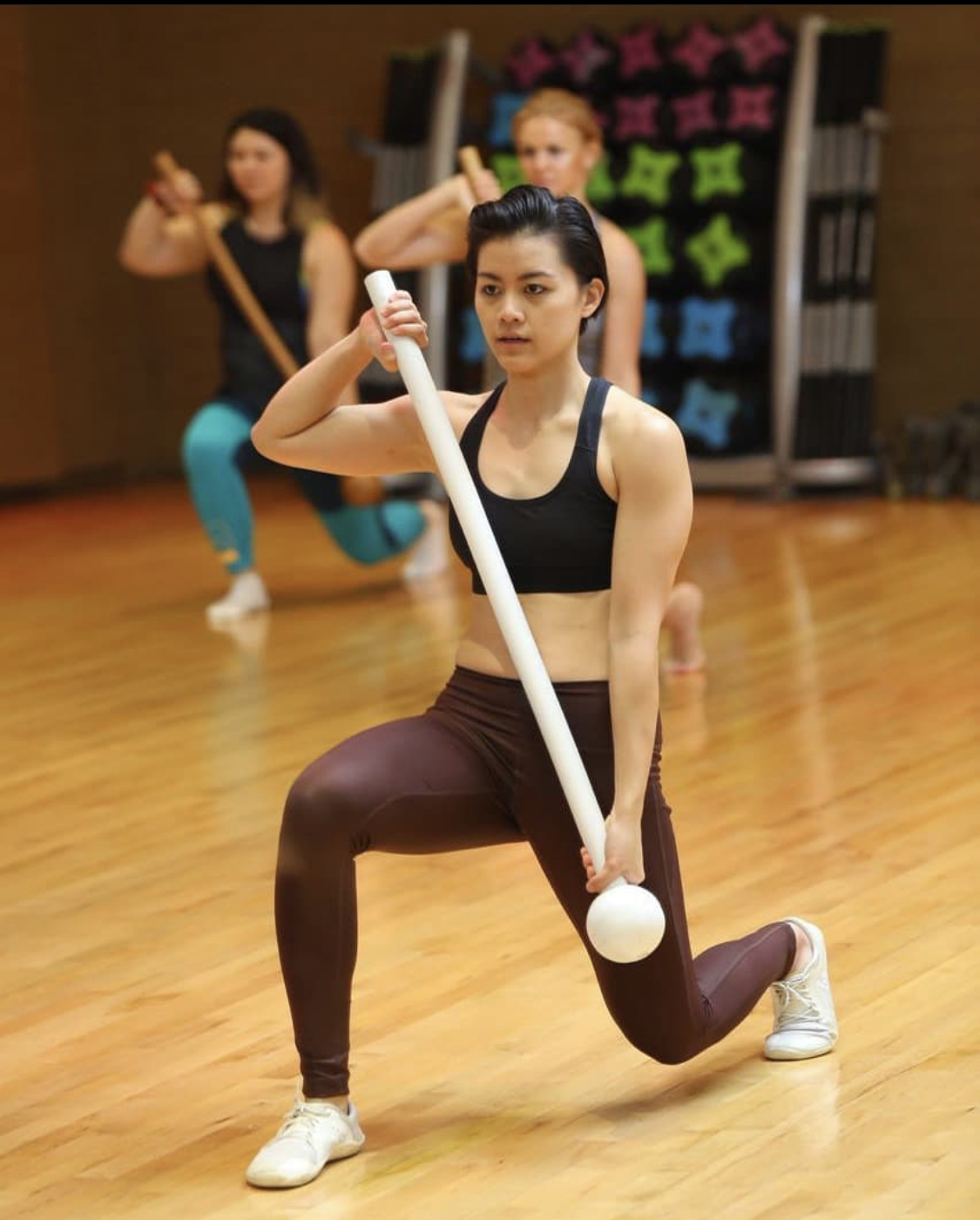 Nat Cruz is the 1st Filipina to attain Kettlebell Master of Sport ranking. Certified by IKSFA Level II and Precision Nutrition, she is also a triple-certified teacher in steel mace. She is a proud Steel Mace Flow International Coach handpicked by the founder himself, Leo Savage. Also known as the White Mace Artist, she weilds a custom white mace named Aphrodite, and loves flowing in solitude. Her mace jams include: Akira Don, R&B, tribal drums, and more, depending on her mood and/or intention. When teaching she takes pride in being particular very with form. If she can sum up her flow style it will be: slow, sexy and clean.


``I am here to help.`` - Jeffrey Ochs
Connection. Empowerment. Completeness. Getting unstuck. These are the targets of my coaching process.
Whether you are getting started with the Steel Mace, an experienced practitioner or someone who wants to work on new ways of thinking, being and creating what you want out of life, I can help.
As a Steel Mace Flow coach I will help you use the Steel Mace to unlock your inner strength, agility and empowerment. Having extensively trained as a Steel Mace Flow Lvl 1 Honors coach and Onnit Academy Steel Mace Specialist, I will coach you from establishing powerful foundations to creating an attainable flow state in which you can express yourself and grow.
My coaching process does not stop there. As a graduate of The Strong Coach, a BA in Psychology from Michigan State University and an experienced Crisis Counselor, I will help you establish strong self talk, find ways to tear down old road blocks and to get out of your own way. Together, using a tried and true visioning process, we will set and crush new goals that will level up you and your experience in this life.
From one of my long-time Steel Mace students after integrating only FOUR weeks of Mindset coaching:
``Right away I felt relieved because Jeff was showing me very valuable insights and teaching me skills to work on the issues most troubling to me. After a few sessions I was feeling really positive, happy, hopeful about my future, and confident I would reach my goals.
I was taught to completely change my thinking about challenges I was facing.
I would absolutely recommend Jeff as a coach. He is intelligent, empathetic, easy to talk to, and I felt he connected to my needs in the first session. He gives the tools that will help you accomplish your goals and succeed in every area of your life.``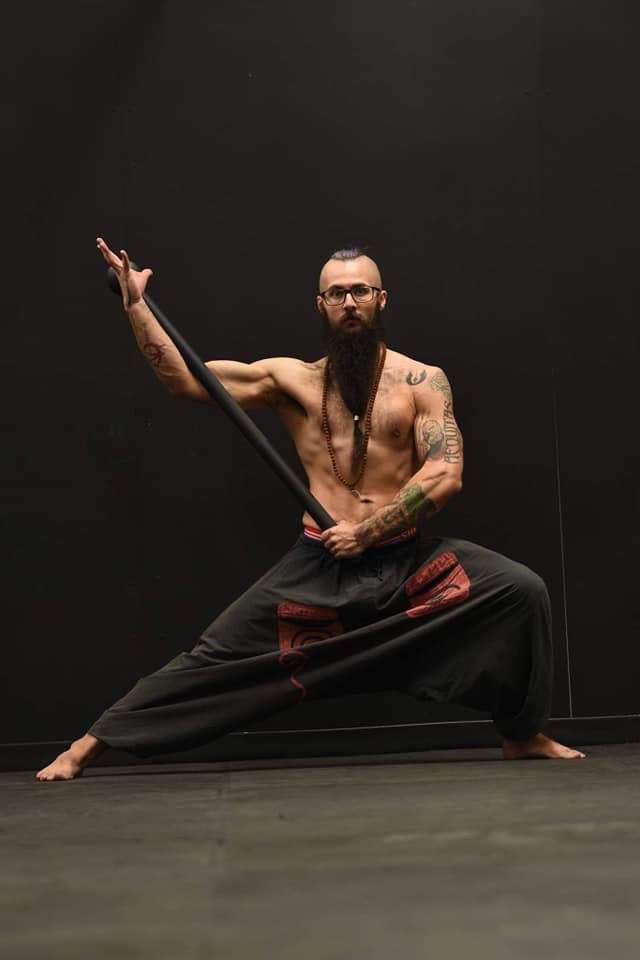 Coach Zack has always had a passion for movement and athletics. After practicing martial arts for a handful of years he moved towards team based sports, specifically football and rugby. After playing in his first semi-pro rugby season a bad knee injury, and the accompanying heartbreak of missing an opportunity to tryout for Team Canada because of it, caused Coach Zack to go from a 215 pound playing weight up to 267 pounds. After a year off of rugby to let the knee heal he got back down to 235 before shattering his fibula into three pieces. Knowing that if he gained another 50+ pounds he wouldn't be able to live the life he wanted Coach Zack reached out to his mother, a fitness professional and gym owner, for guidance.
This started him on his fitness path. After the leg healed Coach Zack started teaching classes for kids, eventually moving on to adults. In March of 2017 a mace was put into his hands for the first time and his life changed. Coach Zack has spent countless hours and thousands of dollars in the pursuit of this passion, attending multiple certifications and workshops all around North America. Using the knowledge gained through this Coach Zack was able to start Canada's first Steel Mace class and in June of 2019 open North America's first Steel Mace Studio. He now teaches certifications and workshops as well as running 15 mace classes a week, with the help of his coaching team, as well as personal mace training and online instruction.
Coach Zack holds mace certifications from Steel Mace Flow, Agatsu, and Rik Brown as well as several in Indian Clubs, Persian Meel, and Kettlebell.